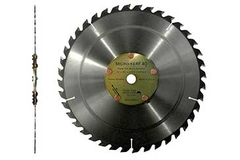 Established in 1986, Total Saw Solutions is located in north central Wisconsin on the edge of the Chequamegon Nation Forest. We are a family-owned business able to serve large and small corporations with a personal touch.
Our primary focus is manufacturing saw blades and cutting tools for the wood, plastics and metal industries. We are the leading manufacturer of the thinnest cutting, carbide-tipped saw blades in the world. We provide quality products, service and high-tech support.
Years of extensive research have allowed us to become a world leader in the saw technology of today. As you will notice from the pictures below, we utilize digital and analog equipment to manufacture and service saw blades. Our expert hammer smithing enables us to hold the closest tolerances in the industry.
Our goal at Total Saw Solutions, Inc. is to provide the best products, services, and consulting advice to our customers.